All Miniature American Shepherds puppies come up to date for everything for their age. All puppies are Guaranteed to be in good physical & mental condition & free from disease at time of sale. Shot Records will be provided.  We guarantee all puppies to be free of any Genetic defects for a period of 26 months from date of birth. A $200.00 NON-Refundable Deposit is required to Reserve a puppy.  Deposits are transferable.  Please contact me for more Info, Photos, Questions…
Our pups are always bred to be the next show dog.  Structural correctness will make for ease of movement to work, as well as a sound temperament for the perfect pet prospect.  With the correct training, these dogs are perfect family dogs with a willingness to please and a sound disposition.  They have a lovely off-switch as conformation dogs and enjoy mental stimulation as well as physical activity. 
  My mom started 30 years ago with Aussies and minis.  She is significantly making cutbacks a few times a year as she gears toward retirement.  Occasionally there will be listings of older pups or dogs for retirement homes.  We try to find the best homes and match personalities so everyone is happy.  Older pups and dogs need a little more time to settle in, learn their surroundings and where their new home is.   
**There are a couple of Aussies available on this site.  Please read carefully, the Aussies will be marked with asterisks as well as listed as such.  If not specified, then they are AKC Miniature American Shepherds.    
We evaluate at 8 weeks to determine which pups we will keep back for showing/breeding in the future.  Because of this, we do not know who will be available at time of birth.  We do not select pups based on coat color, eye color, or sex.  All pups tails will be docked according to our breed standard.  If there is an obvious mismark, then we will consider leaving the tail if someone is interested. 
*Puppies are pet priced at $1600 unless otherwise stated.  Updated:

5/22/2023
If pup or dog is in SD, we meet often, so transport here to WI is no extra charge. 
Feel free to inquire about transport options that may be available elsewhere.
---
I will be out of town for a week and unable to get to email.  
Katy X Blue pups.

  (Katy is our Nationals Best of Winners!)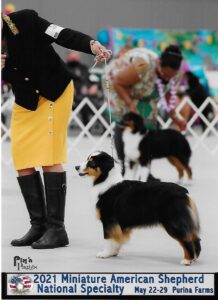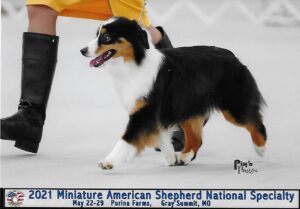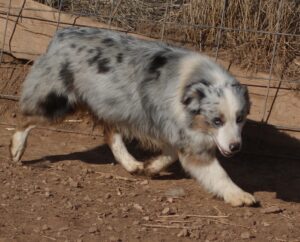 Born 1/27/2023.  These puppies are outgoing and snuggly.  Great personality and even temperaments around the board.  They are friendly, playful and ready to go!  $1600 pet.
Blue merle male.  Bigger side, will likely mature 35-40#.  Loves people, outgoing.  Nice happy boy.  Plenty of energy, but nice off switch.  Nice easy mover, too.

---
 Black tri female.  Small, will likely be around 22-25#.  Silly girl.  Playful, outgoing and spunky.  She's got some energy, but still enjoys lap time.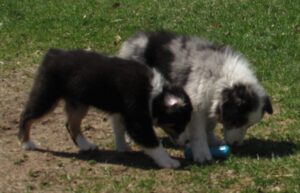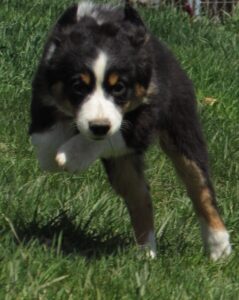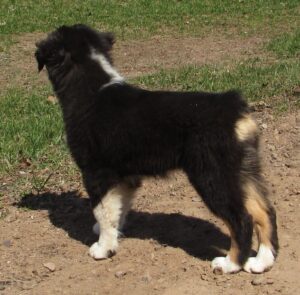 ---
---
Darla X Moon pups born 1/20/2023.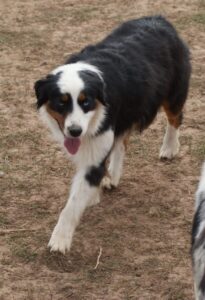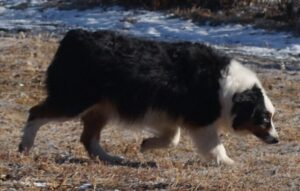 Born 1/20/2023.  Very playful group here.  Lots of energy and willingness.  These guys also love to get some snuggle time inbetween play.  Ready to go!!  $1600 pet.
Black tri boy.  This guy is a cutie, very playful.  Follows me all over the place.   Expected to mature 25-35#.  Independent and center of attention.  Star of the show.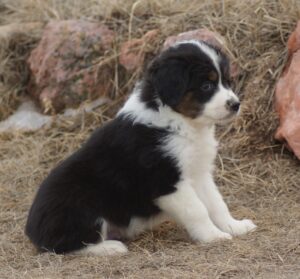 ---
Blue merle male.  Playful, small and lots of fun.  He follows everywhere.  Expected around 25#.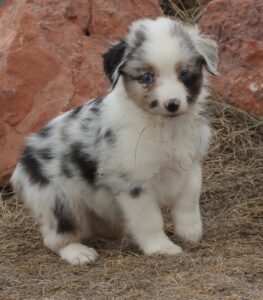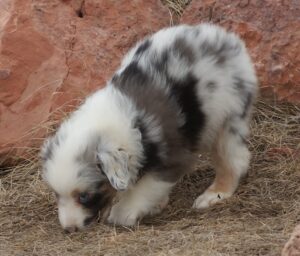 ---
---
Spice X Mickey pups born 2/11/2023.
There are a couple of pups still available. $1600 pet
Blue merle female.  Spunky and cute.  Likes to investigate. Estimated to be around 25-30 #.  She can be brought from SD.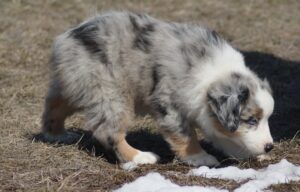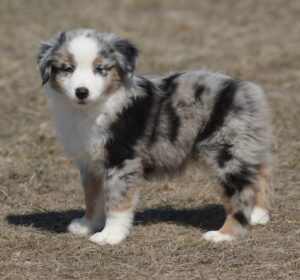 ---
Lola's Blue merle female born Feb 9, 2023.  She's a happy little girl.  Independent and full of herself.   Is available now for pickup.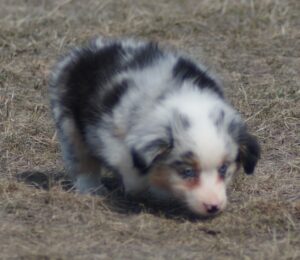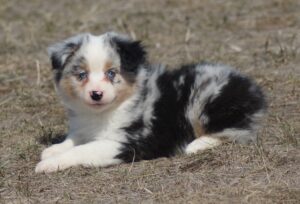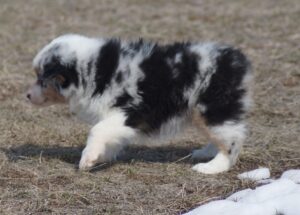 ---
Older AKC Mini American Shepherd pups ready to go! 
Haley's black tri male born 4/11/22.  Blue eyes and a cutie.  A little independent, but loves to learn.  He's a smart one.  He loves to go for walks and enjoys attention.  Crate training going very well.  Would be ok with other dogs his size or bigger, as he likes to play.  Happy boy.  $1500.  Available.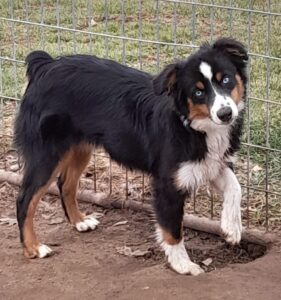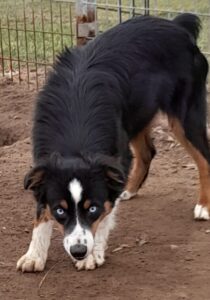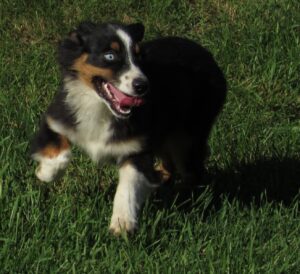 ---
Kitty's black tri male born 5/25/22.  Small, cute and super happy.  Playful guy who loves to get belly rubs and pets as much as he loves everything else.  Good with other dogs and likes everyone he meets.  Not the in your face kind-of pup, either.  Loyal and a little training would make him a wonderful addition to any family.  $1500.  Available.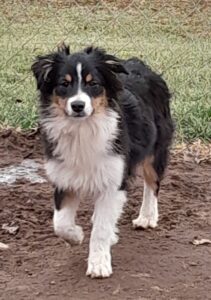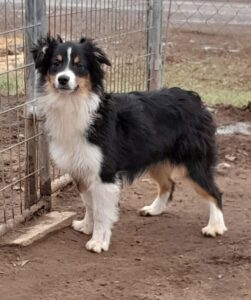 ---
"Monkey."  Born 1/26/22.  Black tri male.  Adorable.  What a lover, he adores attention.  Extremely agile.  Leash training and crate trained. Does good in the car.  Loves fetch!  An excellent partner for anything.  He would make just an excellent agility partner.  This guy can do anything!  He's very keen and intelligent.  $1500.  Available.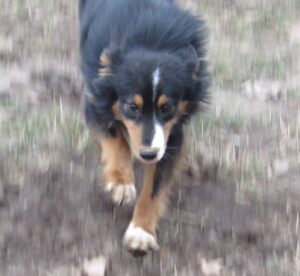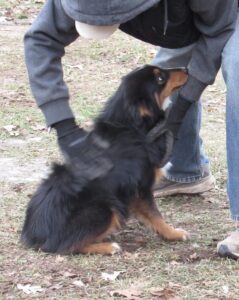 ---
"Glow."  Born 3/5/21.  Talk about all smiles, this girl is the one.  A little timid and a bit reserved, but she's an absolute sweetheart.  Loves to play.  Has been exercising in the kennels with other pups her age, so needs refreshing on some training, but they learn so fast.  We can't show them all, which leaves them for someone else to spoil like crazy.  Glow would like a quiet home, fenced yard, and possibly a playmate or two.  She's great with other dogs and respects cats.  Currently residing with mom in SD. She can get a ride here to me at any time, pending weather.  $1500.  Available.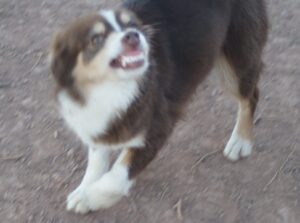 ---
"Bet."  Born Feb 2022.  Great athletic boy who is happy about most things.  He's good with other dogs, friendly, loves to play and get attention.  Another great walking or hiking partner who is a little bigger and will likely mature around 35#.  Still just a puppy, needs refresher training to brush up what he already knows.  Crate trained.  Nice boy, can't keep them all.  Needs spoiling.  In SD with mom.  $1500.  Available.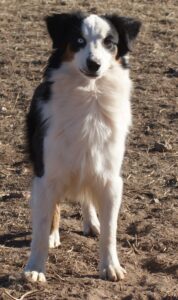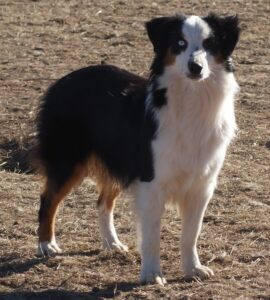 ---
"Scratch."  Born 3/5/21.  This guy is little, under 16″.  Very loyal, athletic and full of energy.  He has been both in the kennels running out his energy and spent time in the house.  Great off leash, likes fetch.  Needs refreshers on a few things but is super intelligent and would make an active household a great addition.  Structurally correct, he could also be considered as a breed prospect.  He is in need of his own family to spoil him rotten and give him pets.  Loves affection and belly rubs.  Great sidekick for hiking, jogging, agility, etc.  Residing in SD with room to run with mom.  He can hitch a ride to WI available at no extra charge when the weather permits.  $1500.  Available.

---
Adults
"Hush."  Born 8/16/20.  Another happy girl being offered for spoils as a pet.  She's excellent in a crate, in a car, on a leash and does great in the house.  Loves attention, loves fetch.  She smiles like crazy and is very sweet.  Hush is currently in SD with mom and can come home with me at any given time, pending weather. 

$1800.  Available.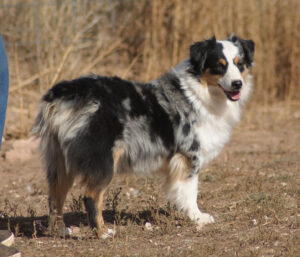 ---
"Boogie."  **AKC Australian Shepherd born Dec 2015 weighing about 45#.  Boogie has the right person and retirement home waiting for her somewhere.  She is a sweetheart to her keeper.  She does need a home with little traffic and preferably a fenced yard of some sort.  She does not like children, but would make a great one owner or couple dog.  She will protect her home and her people, making a wonderful guard dog.  She's gorgeous, structurally sound with gorgeous movement,  & has great potential.  She's been shown, is leash trained, crate trained, car sound, and has spent a lot of time in the house, as well.  Very loyal and loving.  She an get a ride to me from mom in SD when the weather cooperates at no extra charge.  Available for a small fee to the perfect home.  **  Pending Pickup 5/20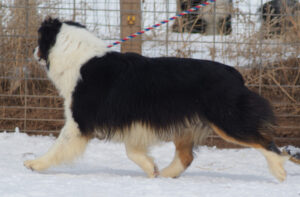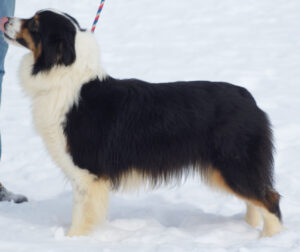 ---
---
For breeding consideration

:
"Bo."  Born 2/24/19.  AKC Miniature American Shepherd.  Bo is offered as a pet or to a show home, as he is tested clear for everything and has had his hips done.  He's a great little dog, about 16″.  Very sweet, a bit timid with strangers.  He plays good with other dogs so long as they're not in his face.  He's not fond of little kids, but does well with older.  He loves puppies!  House trained, leash trained, crate trained, rides in cars.  A lovely boy all around.  Quiet and sweet, loves to be a lap dog.  Structurally correct and a lovely mover.  $1500 pet/$3500 full rights.  Available.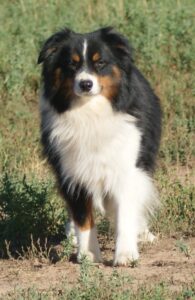 ---
For breeding consideration

:
"Misha."  **

AKC and ASCA registered Australian Shepherd born 2017.

 

My mom doesn't raise Aussies anymore and only has a couple left.  Misha is young enough to still have some nice pups.  She's a great mom, in great shape.  Testing clear, hips good.  Super sweet girl, and pretty laid back.  $2500.00 full rights/$1500 pet.  Lives in SD with mom, but can get a ride here at no extra charge. **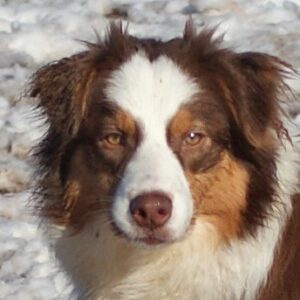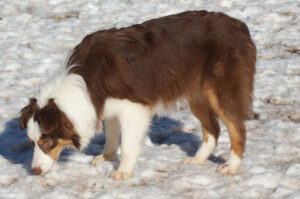 ---
---
Our older dogs have spent time both in the house and in the kennel.  They will come with a collar and leash that they cannot slip out of.  A grace period for adjustment is needed for them to learn their new surroundings and home.  It's very difficult to watch them go, but know they can be spoiled and loved in a home of their own.  We are breeders and these dogs have not been altered as of yet.  
There are a few more older dogs that will be coming available.  These dogs are stunning, healthy, and their intelligence is remarkable.  We do our best to match older dogs with the right families, so be sure to give us as much information as possible when you send us a note! 
---
---
2023 Springtime babies will be available late March & early April!!  Now taking deposits on these litters.