All Miniature American Shepherds puppies come up to date for everything for their age. All puppies are Guaranteed to be in good physical & mental condition & free from disease at time of sale. Shot Records will be provided.
We guarantee all puppies to be free of any Genetic defects for a period of 26 months from date of birth. A $200.00 NON-Refundable Deposit is required to Reserve a puppy.  Deposits are transferable.
Please contact me for more Info, Photos, Questions…
**Pending evaluation:  This means the puppy will be evaluated as a show prospect.  This is done at 8  weeks old.  If puppy is deemed as pet and is not on hold, it will become available again.  
**Reserved:  This means a deposit has been placed on the puppy and it is no longer available.  If the   deposit extends to cover any other available puppies at time of visit and buyer wishes to transfer to another puppy, then this puppy will remain listed as Reserved until final selection is made, and may become available again.   
*Pending deposit:  This means a deposit is being sent and buyer will be given a certain amount of time for it to be received.  This will normally be accompanied by a date following it, and if deposit is not received puppy will become available again.
It's that time of year again and shows are here!  Please have patience as I cannot easily check emails while I'm away from home.  If you have left a message in the last few weeks, and not heard from me, please try again.  If leaving a voicemail, please leave your phone number!  Emails are best for me but I sometimes can't get to them for a few days at a time.
*Puppies are pet priced unless otherwise stated. 

Updated:  09/13/2021
---
AKC Miniature American Shepherd pups ready to go!



Black tri female born 6/11/21.  Friendly and loves attention.  First one to run for cuddles.  Available.  $1500.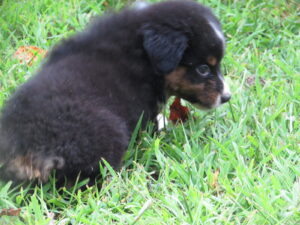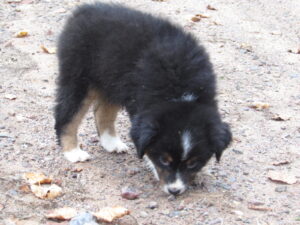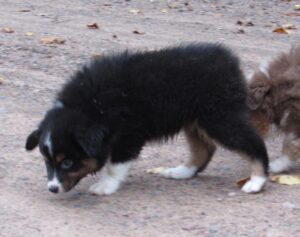 ---
Red merle boy born 6/11/21.  He's smaller, and very playful.  Loves attention and loves to cuddle, too.  Available.  $1500.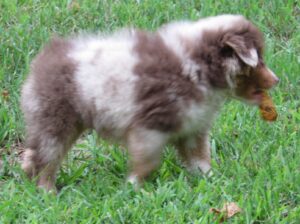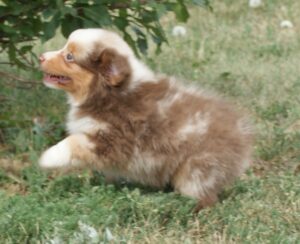 ---
Black tri girl born 6/14/2021.  Outgoing, athletic and fun.   Super playful and attentive, too!  Available.  $1500.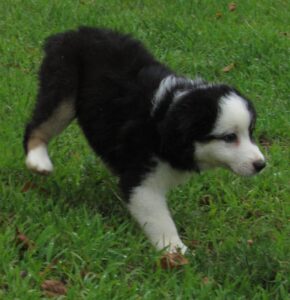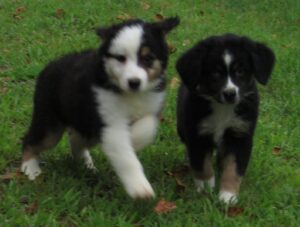 ---
Black tri male born 6/13/2021.  Happy and outgoing boy!  He has one blue eye.  He's playful, but on the mellow side and likes attention.  Available.  $1500.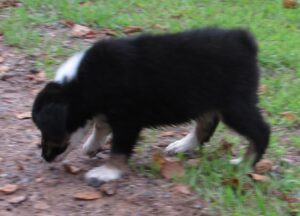 ---
Black tri male born 4/14/21.  Sweet boy who LOVES attention.  This boy is awesome, very friendly and willing.  Well started into crate training.  Available.  $1500.

---
Black tri girl born on March 5 and ready to go immediately.  "Dolly" is the sweetest girl you'll ever meet.  She loves fetching the ball already!  Very attentive.   Cuddling is her favorite thing to do!  Started into crate training and leash training.  Available.  $1500.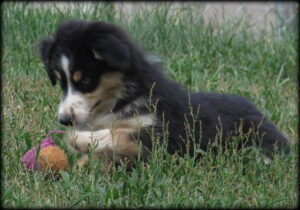 ---
Black tri male born March 7.  Ready to go immediately.  What a card this little boy is.  He is full of energy and super sweet.  Loves to run, loves to play.  Good in the house and started on crate and potty training, and doing well.  Loves everyone, and he's a grinner, too!!  Available.  $1500.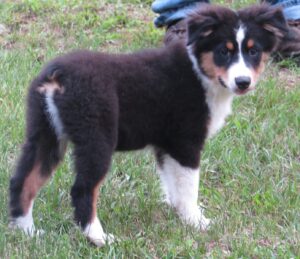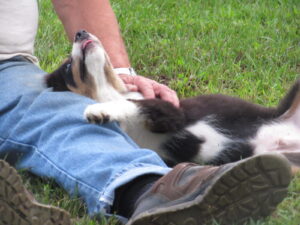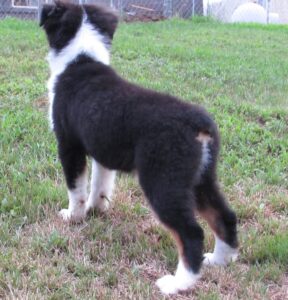 ---
Black tri female, extremely sweet and loving.  Playful and full of energy.  Well started into crate training.  Born 5/15/21.  Available.  $1500.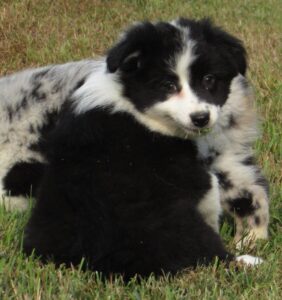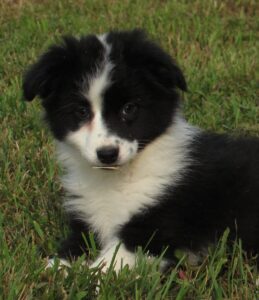 ---
---
Adults and older pups for sale:
Our older dogs have spent time both in the house and in the kennel.  They will come with a collar and leash that they cannot slip out of.  A grace period for adjustment is needed for them to learn their new surroundings and home.   We are breeders and these dogs have not been altered as of yet.  
---
M&M is a happy attentive girl who was born Aug 2017.  She's quiet, good in a crate, good in the car and has excellent recall.  She enjoys being by her people, but is sometimes leary with strangers.  A less busy household would be best for her.  She gets along fine with other dogs, but she is the alpha.  She was born and raised here and is a sweet sweet girl and is also a big smiler, even on request.  Available

. 

$900.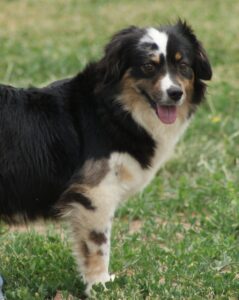 ---
There are a few other older dogs that will be coming available.  After over 25 years of breeding Aussies and Minis, my mom is looking into downsizing over the next few years.  Her dogs are stunning, healthy, and their intelligence is remarkable.  We do our best to match older dogs with the right families, so be sure to give us as much information as possible when you send us a note! 
---
---
---
Please Contact me for more Info for Upcoming Litters or Available puppies.  Transport options may be available.  Ask us about our adults or older pups for sale!!